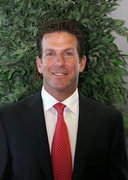 Dear Valued Customers, 
I am excited to announce that Oremor Automotive and I have partnered up to purchase Toyota of Temecula Valley. We officially took ownership on July 8th and we are diligently working on improving all operations of our dealership to give you a better experience than ever before. We are committed to long-term growth, which can only happen with your complete satisfaction. 
I was previously the president of Longo Toyota and Lexus (the largest Toyota and Lexus dealership in the United States). After a phenomenal 21 year career at Longo, I decided to pursue ownership. Like Longo, Oremor Automotive is a first class operation with great people and top-notch dealerships throughout Southern California. 
We are changing the name to Temecula Valley Toyota (TV Toyota) and we are focusing on providing the highest quality service to create lifetime customers. My wife and I have already moved to Temecula Valley and we look forward to getting involved with this great community. 
I will serve as the president and general manager. I welcome your feedback on how we can serve you better. Please feel free to reach out or stop by my office next time you visit our dealership. My e-mail is trudnai@tvtoyota.com and my direct line is (951) 256-3112. 
Sincerely, 
Tom Rudnai